Relógio de Pulso Sexta-Feira 13 Jason Voorhees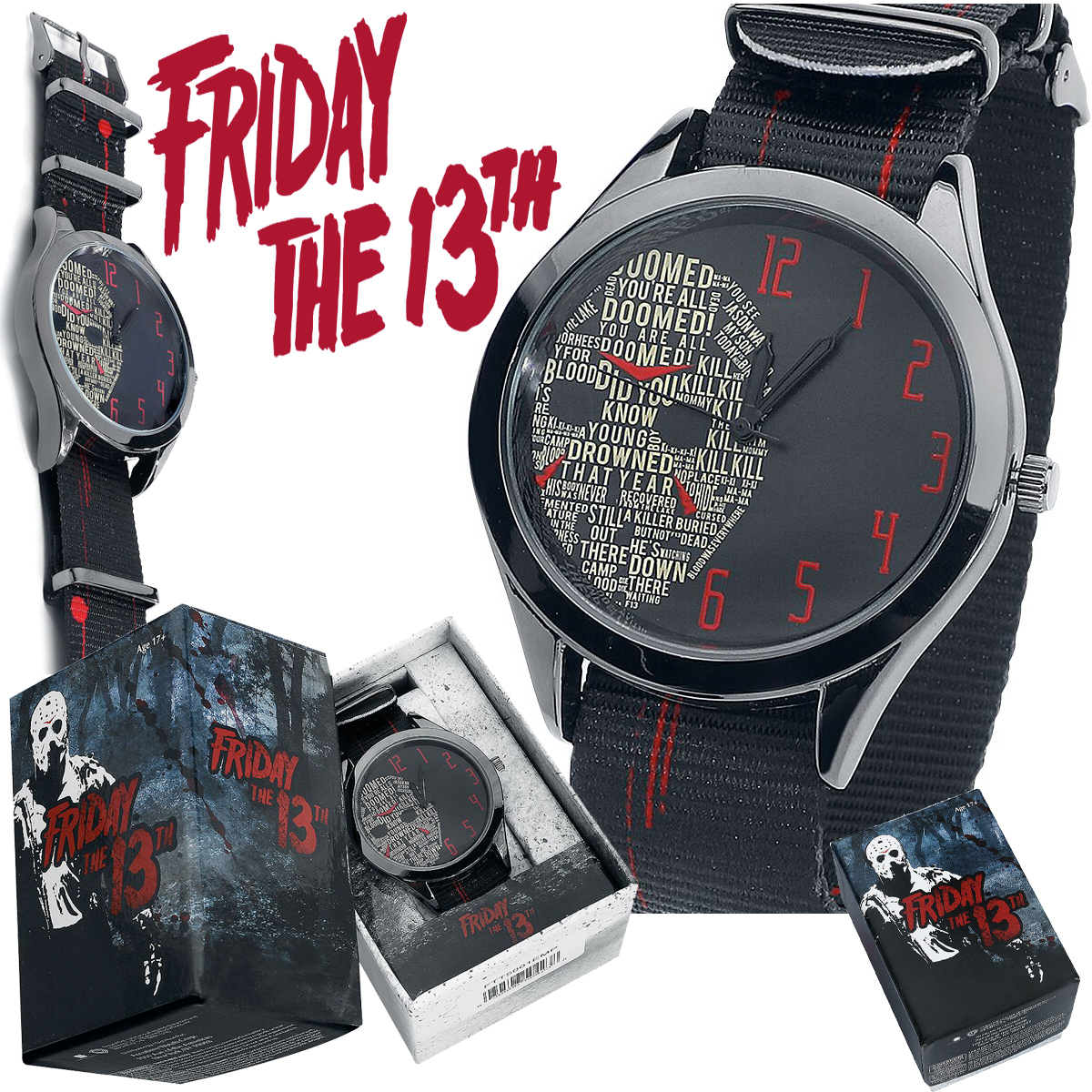 Mais uma sexta-feira 13 de agosto para colocar medo nos mais supersticiosos ou virar uma boa desculpa para comprar este relógio de pulso em homenagem a mega famosa franquia de filmes de terror Sexta-Feira 13, que já conta com 12 filmes de 1980 a 2009.
O relógio de pulso Friday The 13th Officially Licensed Wristwatch tem formato redondo com caixa de feita de liga de zinco com tampa de aço inoxidável pintada de preto com diâmetro de aproximadamente 4,2 cm. A pulseira é de nylon preto com detalhes em vermelho e é ajustável podendo variar de 17cm a 23 cm para caber em pulsos de diferentes tamanhos.
A face do relógio Friday The 13th Officially Licensed Wristwatch tem fundo também preto com números em vermelho e a icônica máscara de hockey usada pelo maníaco Jason Voorhees desenhada com palavras e frases ditas e ouvidas nos filmes da franquia, incluindo: "Kill her, kill, kill" (Mate ela, mate, mate), "You're all doomed" (Vocês estão todos condenados), "You're all dead" (Vocês estão todos mortos), "Jason was my son and today is his birthday" (Jason era meu filho e hoje é o aniversário dele), "Did you know a young boy drowned that year" (Você sabia que um menino se afogou naquele ano), "His body was never recovered from the lake" (Seu corpo nunca foi recuperado do lago), "Ki-Ki-Ki,Ma-Ma-Ma…", "No place to hide" (Nenhum lugar para se esconder), "He's watching down there waiting" (Ele está olhando lá embaixo esperando), "Still out there" (Ainda lá fora) e "Blood was everywhere" (Sangue estava em toda parte).
O relógio de pulso Sexta-Feira 13, como o próprio nome já diz, foi licenciado oficialmente pela New Line Cinema e vem embalado em caixa de colecionador com ilustração do assassino em série Jason Voorhees com a floresta escura ao redor do infame acampamento de férias Camp Crystal Lake.
O relógio Friday The 13th Officially Licensed Wristwatch custa £39,99 na Horror Merchandise Store.
Veja mais relógios de todos os tipos aqui no Digital Drops.
Via Horror Merchandise.