Google compra Boston Dynamics, seria este o começo do fim?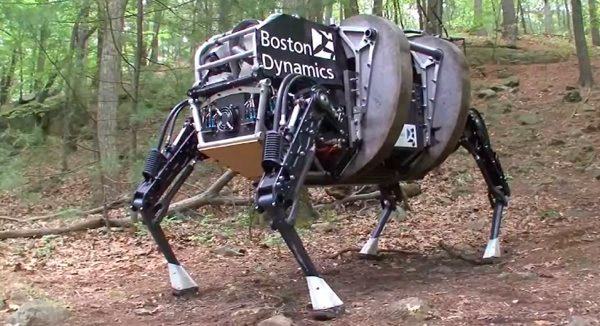 O Google confirmou ontem a compra da Boston Dynamics, empresa responsável pelos incríveis robôs de quatro patas Big Dog, Wild Cat e Cheetah por uma soma não revelada. Até aí tudo bem, o problema é saber o que o Google vai aprontar com esta tecnologia. O responsável pela façanha é Andy Rubin, ex-Mr. Android, e atual responsável pela divisão de robótica do Google. Andy não conseguiu se conter e disse no twitter que "o futuro parece maravilhoso".
A Boston Dynamics foi fundada em 1992 pelo ex-professor do Massachusetts Institute of Technology, Marc Raibert. A empresa vive de contratos com a DARPA (Defense Advanced Research Projects Agency), que irão ser honrados mesmo depois da venda para o Google.
Já ouvi falar por aí que este seria o começo da Skynet, a corporação maléfica mas acho maldade e um exagero. Mesmo assim, confesso que ficaria preocupado em encontrar um Big Dog na rua, mesmo que ele tivesse uma função inocente como levar uma câmera do Street View ou simplesmente oferecer informações, e você?
Espero que o slogan "Don't be evil" seja aplicado com mais rigor do que nunca pelo Google, sem esquecer das famosas Leis da Robótica de Asimov! 😉
Saiba mais sobre a Boston Dynamics.
Via Engadget e New York Times.