Mouse e Mouse Pad dos Simpsons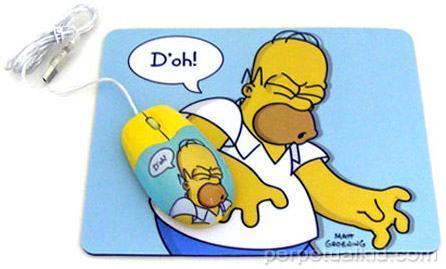 Seu ambiente de trabalho iria ficar bem mais divertido se você tivesse um Homer Simpson Mouse and Pad na sua mesa!
O mouse e mouse pad são decorados com o Homer Simpson falando "D'oh!" O mouse é ótico e o mouse pad mede 24cm x 19 cm.
O monossílabo "D'oh!" é uma marca registrada da 20th Century Fox e em 2001 virou verbete do prestigioso Oxford English Dictionary.
"D'oh!" é usado por Homer quando ele se machuca, quando vê que fez algo estúpido, quando algo ruim acontece ou está para acontecer. Outros membros da família Simpson e até outras personagens também usam "D'oh!". (Fonte: Wilipédia)
O "Homer Simpson Mouse and Pad" custa Us$22,99 na Perpetual Kid.
Veja outros gadgets dos Simpsons aqui no Digital Drops.