Panela Elétrica The Office "That's What She Said"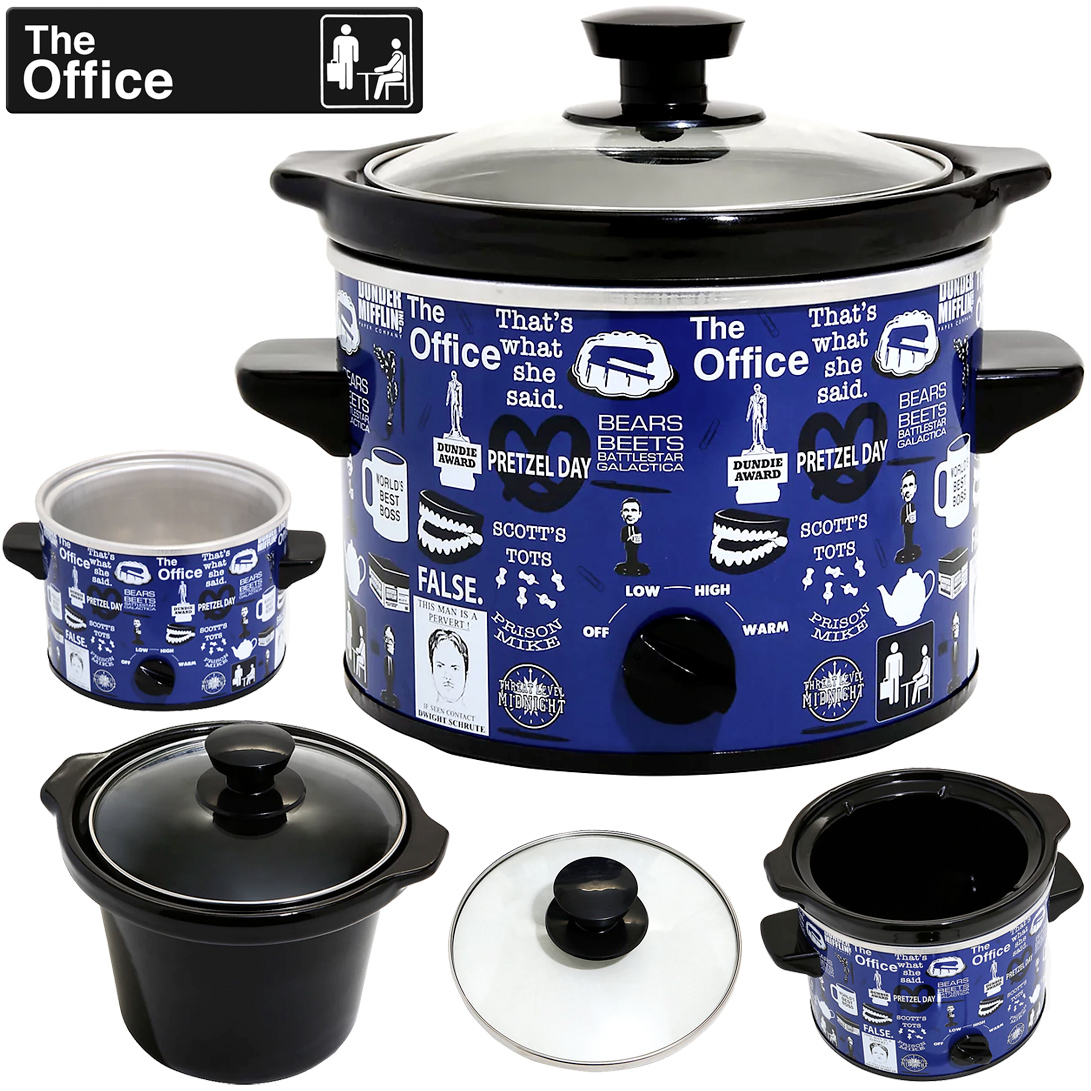 Planejando um delicioso almoço de comemoração no escritório de trabalho? Então vai precisar pedir para o Comitê de Festas comprar esta incrível panela elétrica da excelente versão norte-americana da série de comédia sitcom The Office, adaptada pelo produtor Greg Daniels da versão original britânica criada por Ricky Gervais e Stephen Merchant.
A The Office Icons 2-Quart Slow Cooker é uma linda panela elétrica decorada com diversos icones e frases marcantes da divertida série impressas em branco e preto sobre um fundo azul, que todo fã de carteirinha da companhia de papel Dunder Mifflin Paper Company, filial de Scranton no estado da Pensilvânia.
A panela The Office Icons 2-Quart Slow Cooker tem três graduações de temperatura diferentes: baixo, alto ou morno, além de uma tampa de vidro transparente temperado e uma parte interior removível, feita de stoneware (grés) antiaderente com capacidade para quase dois litros (1,9L), que segundo o fabricante é suficiente para servir bem duas pessoas. A panela pode ser usada para fazer várias receitas diferentes, incluindo a famosa receita de chili do Kevin passada pela família Malone de geração a geração.
A parte exterior da panela é feita de metal com construção durável, as alças não esquentam e os pés são de borracha antiderrapantes para estabilidade total na hora de cozinhar. Tanto a tampa de vidro como a parte interior da panela podem ser lavadas diretamente na máquina de lavar louças da sua casa.
Entre os ícones e frases que decoram a panela elétrica estão pérolas como: "That's what she said", Bears Beet Battlestar Galactica, Scott's Tots, Prison Mike, Threat level midnight, Pretzel Day, Dundie Award, cartaz Dwight procurado, grampeador dentro da gelatina, brinquedo dentadura do Michael, caixa de papel Dunder Mifflin, beterraba, utensílios de escritório, caneca de melhor patrão do mundo e o famoso boneco Bobble Head do Dwight entre outros.
A panela elétrica The Office Icons 2-Quart Slow Cooker custa US$23.94 na Boxlunch.
Veja outras panelas entre vários gadgets de cozinha incríveis aqui no Blog de Brinquedo.
Via Boxlunch.